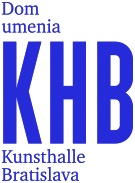 The Slovak Center of Visual Arts (SCVU) and the Dom umenia/Kunsthalle Bratislava (KHB) were established as an outcome of the pursuit of particular artists and theorists as well as the broader cultural public to create a representative exhibition space in the center of Bratislava. The mission of SCVU and KHB is to survey, document and mediate contemporary visual art to national and international audience. The Slovak Center of Visual Arts and the Dom umenia/Kunsthalle Bratislava aim to mediate and house visual art in Slovakia in cooperation with the in-house research and education center through exhibition projects, library, archive, website, magazine, and newsletter.
Nám. SNP 12,
kunsthallebratislava@gmail.com
Nadine Gandy Gallery interrogates several themes including the body, identity, insecurity, self determination, migration and
transformation. Additionally, she alludes to problems arising fromintercultural and intercommunity. By choosing to open her gallery in Bratislava she has opened the door to new experiences. Gandy gallery is a zone where definitions continue to evolve, and a dynamic zone is fostered where intellectualism and spirituality ensure the plurality of the gallery. The gallery fosters ongoing research, discoveries,experimentations and carefully constructed relationships in a tireless and passionate manner.

Sienkiewiczova 4 Bratislava 81109
Zahorian & van Espen Gallery
Zahorian & van Espen Gallery houses a vast collection of selected authors and its exhibitions vary regularly. It represents young and established artists and gives exposure mainly to Slovak and Czech authors. In addition to the vigorous exhibiting activity (six exhibitions per year in its own gallery space and several exhibitions per year out of the Zahorian & Co Gallery) it also contributes with publishing activities. The Gallery has participated at important international art fairs.
Mierová 7, 82105
HIT Gallery emerged out of initiative of non-profit association KARTEL in 2003. Activities of the gallery facilitate confrontation of bothprofessional and wider public with actual trends of contemporary visual art. Their aim is to dynamize local art-scene and also to stimulate intercultural and international exchange motivating formation of new projects. Our main aim is to broaden awareness of contemporary art in Slovakia and surrounding countries, cultural exchange, creation of platform for discussion about various discourses in central-european contemporary art and also realisation of projects in cooperation with broader theoretical sphere with generational overlaps.
Hviezdoslavovo námestie 18 ,811 03
From the beginning we have profiled ourself as a private gallery, working very closely with the Slovak artists, but also often inviting other artists for specific projects (mostly from Austria, the Czech Republic, Hungary, Germany,Romania, Italy etc.). Our ambition was to become a trendsetting gallery for contemporary art, in a situation where any cooperation between artists, institutions, collectors, galleries and curators was almost non-existent.
Nám. 1. mája 3
tranzit is a network working independently in Austria, the Czech Republic, Hungary and Slovakia since 2002. The network has a polycentric structure as a collective of autonomous local units cooperating across various borderlines – between nations, languages, media, mentalities and histories. Each tranzit works under its own conditions in a variety of local contexts, using different formats and methods such as critical platforms, exhibitions and other artistic settings (musical, poetical, literary, performative …), lectures, discussions, publications, research, mediation and non-conformist education.
Studena 12
office.sk@tranzit.org
SODA gallery is contemporary art gallery whose exhibition activities are mainly focused on the creation of a new generation of domestic but also foreign artists. For Art collectors gallery present and offer significant new young and contemporary authors and the best works of art with high investment value of the environment from Czech, Slovakia and Europe.
Školská 9, 811 07
BANSKA ST A NICA Contemporary (BSC) is the residential centre project realized by the group of professional artists, theoreticians and culture activists from the citizen's association Štokovec, priestor pre kultúru / Štokovec, Space for Culture. Leaders of the centre are Zuzana Bodnárová (curator and culture manager) and Svätopluk Mikyta (visual artist). BSC is situated in the Central Slovakia.
Ilija 47, 969 03
mikyta@stokovec.sk / bodnarova@stokovec.sk
Danubiana Meulensteen Art Museum - unique museum of modern art on river Danube in Čunovo by Bratislava.The framework of its impressive architecture is formed by its unusual location on the borders of three neighbouring countries, Slovakia, Austria and Hungary, but above all by the superb contrast of the wide expanse of water, open air and the endless banks of a dam.hows by leading international artists are alternated in the great hall on the first floor. On the ground floor there is a gallery of contemporary art where the exhibits are on sale, a place for smaller scale exhibitions, an audio-visual centre and a lecture hall.
Bratislava-Čunovo, Vodné dielo
The amt _ project is a contemporary art gallery based in bratislava, slovak republic established in april 2010. the gallery concentrates on contemporary young artists from the region of central and eastern europe and specifies their importance within the international art scene. the current program of the gallery is focused on an undoubtedly present and unique phenomenon: the relation between the young artists and the generation whose activity began in the seventies.
the amt _ project's aim is to develop a coherent program, communicating the message through the individual expressions of the represented artists.
Stetinova 1, 81106
Collective of artists APART arose in 2012. Since the beginning, its main program content is publication activity going under the name APART LABEL, which is mapping artistic expressions in their local environment. It focuses on selected tendencies of contemporary art forms, observes their and dwells on building an archive of this specific environment. Our ambition is not to map artistic activities in their full spectrum. We focus our attention on such outputs and researches of art forms, which in some cases reflect our own interest in specific themes.
​
The mission of the TRAM project is to support cultural mobility, as well as to provide passengers with an unusual art experience enriching their journey with surprising encounters with contemporary art.
At the occasion of numerous significant anniversaries in 2018, the Austrian Embassy, Austrian Cultural Forum, and Curatorial Studies Institute prepared a project establishing a cultural link between Vienna and Bratislava. The contemporary art gallery and cultural center will regularly, 11 times a day, ply as an ÖBB/ZSSK train on the route between central stations in Vienna and Bratislava. Title T.R.A.M. refers to Vienna tram (in German Pressburger Bahn), which has been connecting Vienna and Bratislava since 1914. Vienneses would travel for a cup of coffee or to the opera house to Bratislava, Bratislavans to Vienna.
​
Na Riviére 2, 841 04
The Július Koller Society is a non-profit association established 2008 in Bratislava. The purpose and objectives of the association is to promote the works, artistic and cultural achievements of Július Koller as well as to enhance exchanges in contemporary arts and strengthen local and international cultural dialogue. In 2009, the association received a donation from Květoslava Fulierová licensing rights for the world-wide reproduction of Július Koller's works, along with the extensive archive of the artist, which the association gradually research and publicise. The works presented on this website in the section "Archive" are property of the Július Koller Society and overall number of item counts over ten thousand.
​
Nová Cvernovka, Račianska 78
​
Temporary parapet is artist-run gallery focusing on emerging and semi-established artists working with different medias. The aim is to bring an exhibition space alternative to the standard gallery network in Slovakia, more casual and project based one. They like to encourage young curators and artists to work together. They are not motivated on the commercial success, trying to avoid cliques and opening a dialogue between different art practices and backgrounds.
​
Vlastenecké námestie 7